BEAUTY
Exfoliate Your Way Into Glowing Winter Skin
Nov 15, 2020 02:25 AM EST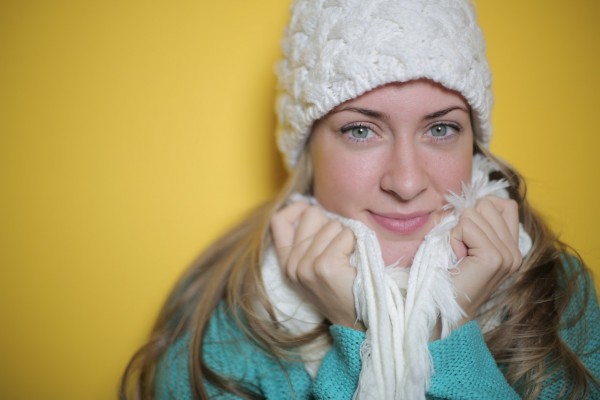 (Photo: Andrea Piacquadio / Pexels)
Stay luminous in the dreary winter season. Exfoliate to reveal glowing winter skin!
One of the most crucial steps in skincare is to exfoliate. Exfoliating sweeps away grime, dead skin cells and makeup residue by deep cleaning your pores and revealing fresh skin. Of course, clear skin doesn't happen overnight. For instance, if you're going to introduce a chemical exfoliator into your skincare routine, allow at least 30 days to a couple of months for you to see and feel a major difference. A physical exfoliator, those grainy types of facial cleansers, give you that freshly scrubbed feeling, but too much can cause hypersensitivity. Learning how to use both without overdoing either will optimize cell turnover and result in smoother skin.
Physical Exfoliation
If you (and your mother) grew up using the cult favorite St. Ives Apricot Scrub, then you already have an idea about physical exfoliation. A physical exfoliator's main purpose is to slough off pollution, makeup and soap residue, and dead skin cells of the surface of your skin. While the St. Ives Apricot Scrub line has been a bathroom staples for many years, a lawsuit in 2017 claimed that the crushed walnut powder in it caused microscopic tears in the skin that resulted in long-term skin damage. That lawsuit was dismissed in 2018 and it continues to be popular among consumers. If you have extra sensitive skin, Good Housekeeping recommends No7 Radiant Results Revitalising Daily Face Polish. For oily skin, start with Fresh Umbrian Clay Mattifying Face Exfoliant. If you have normal to combination skin and can stand a good scrub, go ahead, and keep using your favorite St. Ives product. All skin types can also benefit from an exfoliator brush. Unfortunately, the OG of face brushes, Clarisonic, stopped production in September 2020. GH suggests Olay Regenerist Facial Cleansing Brush instead. Vogue also favors the Nion Opus Luxe, a cleansing brush that uses soft, antibacterial silicone.
Also read: Too Much Clarity? How To Know If Your Over-Exfoliating Skin
Chemical Exfoliation
"Chemical exfoliation means using chemicals to dissolve the dead skin surface cells," New York City dermatologist Dr. Ellen Marmur explains. While it sounds intimidating, it's considered gentler and more effective for regular and long-term use.
The most common chemical exfoliators include alpha hydroxy acids (AHAs), like glycolic acid and lactic acid, and beta hydroxy acids (BHAs), like salicylic acid. Fruit enzymes can also be found in the ingredient list.
AHAs are best if your skin concerns revolve around sun damage, uneven texture, and pigmentation. Look for ingredients like lactic acid and glycolic acid. Try Paula's Choice Skin Perfecting 8% AHA Gel Exfoliant, The Ordinary Lactic Acid 10% + Hyaluronic Acid or Olay ProX Anti-Aging Nightly Purifying Micro-Peel. AHAs are photosensitive so do not forget to wear sunscreen every day.
BHAs are best for those concerned with blackheads, large pores and milia since it penetrates better through pore-clogging material. You're probably already familiar with salicylic acid as an active ingredient for treating acne. Try The Ordinary's Azelaic Acid Suspension 10%, Paula's Choice 2% BHA Liquid Exfoliant or Cosrx BHA Blackhead Power Liquid.
Be careful with mixing AHAs and BHAs if you have sensitive skin. You can use your BHA in the morning and AHA in the evening or use them on alternate days. Korean skincare junkies layer them by using BHA first, waiting for 20 minutes then applying AHA after. If you also use a Vitamin C serum or retinoids, it's best to consult your dermatologist before using all products together.
Related article: Kojic Acid Lightens Your Skin and Reduces Dark Spots