Sep 28, 2020 09:21 PM EDT
Jennifer Lopez Shows Trendy Hairstyle with Her Epic Silver Chain Ponytail for a New Music Video(Photo : Chris Appleton Instagram)
Jennifer Lopez made a statement with her trendy silver chain ponytail in a two-part music video with Maluma.
Singer-actress, Jennifer Lopez, seriously shows off with her sexy outfits and the hot grooves with Maluma's two-part collaboration, "Pa'Ti" and "Lonely". The video was one of the much-anticipated duels recently.
If you watch the video below, the lyrics and the chemistry are just hot and makes you dance around while playing the song. Be amazed with J.Lo's 6 pack abs, well age is just but a number!
Jennifer Lopez's Silver Chain Ponytail
In Jennifer Lopez's silver chain hairstyle, it would be hard to take your eyes away as her hair swayed around her. Let us get a closer look at the chain hairstyle in action. Thanks to Appleton, J.Lo's fans can take a glimpse of the gorgeous actress.
The man in action is hairstylist Chris Appleton. He shared behind-the-scene pictures of his days on the set with the star performer. Appleton shared videos and more pictures through his Instagram account. With this, fans go crazy and can't get enough as the hairstyle looks great on Jennifer Lopez.
Jennifer Lopez looks glamorous with her thigh-grazing silver chain ponytail. She wore it while twirling atop the New York City skyscraper, the Edge.
In the said video, Appleton and his staff ensure to fix the fringe chain's attached to Lopez' hair with her black blazer mini dress and jaw-dropping diamond drop earrings. The chain hung past Lopez's waist and looked chic with her elegant heels as well. There are various lengths of chain resembling Lopez's style, but this one is more on style and trendy.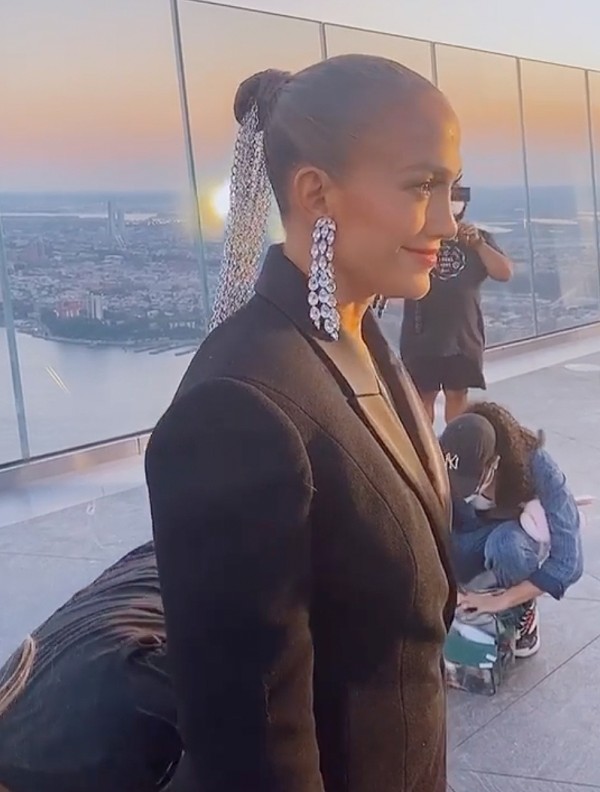 Appleton captioned the image with "Glittering shiny chain pony - behind-the-scenes - shooting on the edge". The go-to hairstylist wrote on his Instagram alongside shots of Lopez as she filmed the music video. He added, "Shout out to my assistant @mitchellramazon for running around new york looking for the chains with a 1 hr window".
The hairstyle is just cool and looks different creation perfectly fit for J.Lo. Her fans and everyone couldn't stop freaking out over Lopez's silver chain ponytail in Appleton's Instagram post.
"Wow, this is everything!!!"
"This is a must, I need a chain pony!" one fan said. "I need to try this one!" another fan commented.
Appleton shared another picture with Lopez wearing a 90's style blonde that features money piece highlights and a gold base; you can see how Jennifer's skin just glow. The singer-actress looks like a doll with her great tan and stunning look.

The premiere of the music video of "Pa' Ti" and "Lonely" music both Lopez and Maluma eagerly promoted it on social media. Jennifer described her collaboration with Maluma in one word--"amazing".
On the other hand, Maluma commented, "I look at it, it looks like one song. We are going to sing the two songs like one."
We totally agree with it! Rock and envied that look.
Watch music video Jennifer Lopez and Maluma here :

See Now: 100 Most Beautiful Women In The World
PHOTO GALLERIES
BEAUTY IDEAS
HOW TO