Sep 28, 2020 02:25 AM EDT
Khloe Kardashian Secretly Went To A Tanning Salon And Found Her Mom Kris Jenner Goes There Too(Photo : gettyimages/Instagram)
Khloe Kardashian enjoyed going to a tanning bed and discovered that her mother Kris Jenner goes there all the time.
Khloe Kardashian Secretly Went To A Tanning Salon
The star from "Keeping Up With The Kardashians" didn't wish the public to know that she goes to a tanning salon and kept a low profile. However, she was surprised to know that her mother Kris Jenner also visits the salon a lot as revealed by the beauty staff.
Khloe Kardashian shared with E! Reality show, "On Saturday morning I went to a real tanning bed and I was cautious to everyone. I did wear sunscreen and the staff check on my skin. But I was shocked when the staff asked me. Do you like to get that package your mom gets?".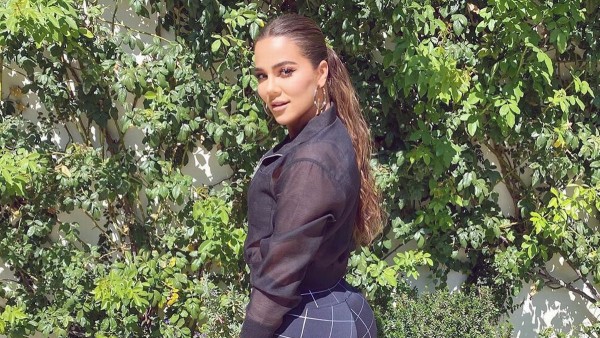 She continued, "I was totally surprised and just goes like.. Ah! My mom goes all the time!". Getting a good tan is part of the family's routine.
Khloe 36, shared this fun surprise with Scott Disick in the backyard as they were preparing to pull off their new prank on Kris Jenner.
Disick, on his own way of trying to get some color from the sun, received encouragement from Kardashian to go to a tanning bed salon. Khloe shared with him the escapade she did and how she found out her mother Kris Jenner goes to the same place as her.
Khloe Kardashian was surprised that her mom Kris Jenner enjoyed the tanning bed and haven't shared with her. Scot Disick's reaction was a big "Wow".
The famous celebrity firmly insisted that makeup and skincare are "an essential part of her DNA". She admits that she grew up and was thought of with such care, "Through the years, makeup and skincare is part of my essentials. I learned many tips and tricks and I have my own approach to the beauty all on my own".
Khloe is now more open to talking about the new things that she loved to do aside being with her family. It would no longer be surprising to see her and her mom together going to the salon in the future.
Kardashian is now back to brunette after a stint on blonde hair; she does a lot of fun with her makeover. Tanning beds are quite popular, especially on Hispanics and with western white skin. For some, there is no beauty without that shiny bronze skin.
Going to a tanning bed salon keeps you out of the beach and gets the zest of the desired color you like. Although many studies claim that indoor tanning beds have precautionary measures to reconsider and you need to check with your physician.
Meanwhile, Khloe's perspective on beauty, "As much as possible, I don't stick to one look for a long time. I rather prefer a different character every single day and experiment. For me, beauty should be anything but boring. It is a form of self-expression, there is no right or wrong rather about how it makes you feel".
See Now: 100 Most Beautiful Women In The World
PHOTO GALLERIES
BEAUTY IDEAS
HOW TO