BEAUTY
Nail The Holidays! Christmas Nail Trends for 2019
Oct 18, 2019 02:56 AM EDT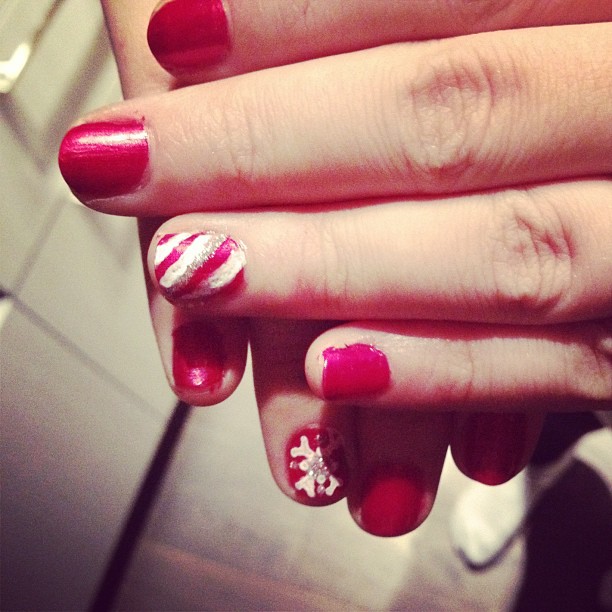 Credit : Image from Flickr by Chantelle Joy Otto
The holidays are fast approaching. As we feel the colder air, start seeing holiday makeup collections and holiday advent calendars, we know it's time to start thinking about holiday nails, too!
Now you may think of using a bottle of red nail polish again this holiday season, but let's switch things up this year! We've got some inspiration and beauty hacks for you.
1. Candy Cane Christmas Nails
It's a classic holiday nail art that you'll want to get year in, year out. Level up this nail trend by donning glittery nail polish to go with the look.
2. Snow Globe Nails
Your nails are ready for a winter wonderland redesign this year. You may want to add glitters and a snowman as well!
To cop this trend, you'll need a lot of glossy white nail polish and the right tool, which we also discussed below.
3. Snowflake Christmas Nail Design
Snowflakes are always fun to have on your nails, and they're achievable DIY Christmas nails, too. You can level up red nails with white snowflakes, but don't stick to the mainstream.
Get creative with your choice of colors. Snowflakes will always get you in the holiday mood, no matter what colors you put on. Be sure to let the first layer dry first before painting on your chosen print.
4. Christmas Sweater Nail Design
Christmas sweater prints tend to be too overwhelming to wear, but not when the prints are on our nails. Their over-the-top design makes them the perfect inspiration for cute Christmas nails.
5. Ornament Christmas Nails
Get inspiration from the Christmas balls you'll put up on your tree. Their designs make great ideas for cute nails too. Think: Angels, mistletoe, reindeer, Santa, a huge star and even presents!
6. A String of Christmas Lights on Nails
This must-have decoration is also fast becoming a trend for Christmas nails. It's a festive take on nail design.
For the lights to stand out, start with a darker base.
7. Christmas French Tips
For easy Christmas nails, simply paint your nails red and finish off with white French tips for Santa-inspired nails.
8. Santa Christmas Nails
For the young ones, they'll enjoy having their nails painted with characters like Santa's face, reindeers, penguins or even Olaf! For the grown-ups, you'll want to stick to the same color for your nails and have an accent nail with the design like Santa's belt or Mr. and Mrs. Claus.
9. Oh Starry, Starry Christmas Night Nail Design
We love this cute design with deep dark colors like red, holiday green or navy blue. Finish off with white or glittery silver stars for perfect holiday nails.
10. Matte Christmas Nails
When you don't have much time to wait for layers of paint to dry, you may want to don a minimalist trend. Opt for a pale pink with bright red tips and gold stripes. You can also go with red and gold, or red and green in matte.
Tools You Need to Nail These Trends:
Nail striper: For making those candy cane stripes and snowflake designs
Nail dotting tool: For falling snow, nose and eyes
Nail stamp: For perfecting complex designs including Christmas decor and characters
Christmas nail decals: For a more streamlined effect throughout your nails